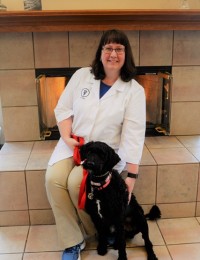 Associate Veterinarian
Dr. Melissa Cwick was born and raised in Kewanee, Illinois.  After graduating from Wethersfield High School, Dr Cwick attended the University of Illinois for both undergraduate as well as veterinary school.
After graduation, Dr. Cwick spent her first year of practice in Fremont, California before she and her husband, Joe moved to Indiana to be closer to their family. Her first few years in Indianapolis were spent working at a clinic on the south side of Indy, followed by clinics in Zionsville and Noblesville. Dr. Cwick has worked part time at Allisonville Animal Hospital since 2004.
Dr. Cwick and her husband have 2 children, a son, Christopher and a daughter, Elizabeth.  She also has two cats named Albus and Sirius.
During her free time, she likes to read, craft, attend her children's events and spend time with her family.