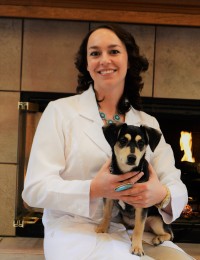 Associate Veterinarian
Dr. Stacy Winkhart obtained her veterinary degree from Michigan State University in 2014. She has had the opportunity to work in corporate, private, and nonprofit veterinary practice since graduation. Dr. Winkhart also spent a year working in emergency medicine prior to returning to general practice. Her professional interests include diagnostic imaging and soft tissue surgery. She is an active member of AVMA and AAHA.
Dr. Winkhart has always been passionate about the importance of the human animal bond. Growing up in central Indiana on a small farm with many animals including dogs, cats, birds, rabbits, goats, and horses led her toward the path of veterinary medicine. Dr. Winkhart was a 10-year 4-H member participating in cats & small critters, dog obedience, horse & pony, and photography on the local and state level. She won numerous awards including the prestigious Indiana POA pony award while in 4-H.
Dr. Winkhart has been an avid equestrian since she was 5 years old. She has shown in several disciplines and has had the opportunity to win many regional and international championships with her horses. Dr. Winkhart and her family also had a large rabbitry where she bred and showed multiple national champion rabbits and she was a member of the rabbit royalty during her youth.
Dr. Winkhart shares her home with 2 sphynx cats named Suri and Simon. She acquired her cats while in veterinary school. Suri and Simon's personalities are unique and independent which makes them great pets. Outside of work Dr. Winkhart enjoys spending time with her family, particularly her nieces and nephews. She is well known as the "cool" aunt. Other interests include skydiving, playing golf, traveling, attending concerts & festivals, and experiencing new restaurants & coffee shops.