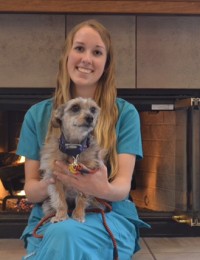 Registered Veterinary Technician, Lead Technician
Megan grew up in Greensburg, Indiana with her older brother and sister.  She graduated from Morehead State University in 2016 with an Associate of Applied Science degree in Veterinary Technology.  She then continued her education and graduated with a Bachelor of Science degree in Veterinary Technology in 2017. Megan is a Registered Veterinarian Technician.
Megan loves working in a vet hospital because she gets to do and see a little bit of everything including surgery, clinical pathology, and diagnostic imaging with the animals she loves. Every day is a new adventure because you never know what you will encounter.  Megan has one dog:  Coco a Corgi mix.  In the past she has had numerous other pets, including hamsters, hermit crabs, beta fish, and a parakeet. She enjoys being with family and friends, reading, playing softball and volleyball, and spending time outdoors.